My father-in-law is great chef and he taught me how to pick fresh meat and vegetable. He bought big whole cabbage in past weekend, I was thinking what to cook with it.
Then I decided to cook whole cabbage.
Here is the recipe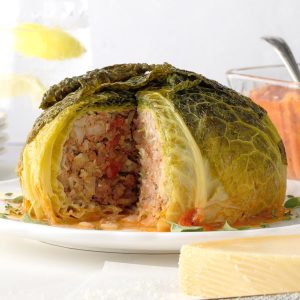 Stuffed Whole Cabbage Cake
Are you looking for a delicious and nutritious cabbage cake? Look no further than this blog post! In this post, we're going to show you how to make a stuffed whole cabbage cake, complete with all of the ingredients and instructions you need.
Ingredients
[A Meat ]
1

lb

ground chicken

Beef or Pork will be good.

⅓

Tofu

½

onion minced

½

small carrot grated

salt and pepper

1

egg

1

Tablespoon

soy milk

or whole milk

8

Tablespoon

panko

bread crumbs
[[B Soup]
2

chicken stock cube

3-4

cup

water

8

whole black peppercorns

4

bay leaves

1-2

Tablespoon

soy sauce

salt
[[C Starch Water]
2

Tablespoon

Corn starch

3

Tablespoon

Water

2

tablespoon

parsley minced
Instructions
In the bowl add all ingredients of [Meat] and mix well with hands.]

Take off 2-3 outer leaves of cabbage. Make an incision around the center of cabbage and take out center and leaves to make a hole. (you can scoop with spoon)

Mix all ingredients [C Starch Water]

Stuff [A Meat] in the hole in cabbage. Put some leaves from Step 2 at the bottom of the pot and whole cabbage facing hole to bottom.

Add all [B soup] ingredients in the pot and simmer over high heat

When it begins to bubble, cover foil and lids, lower the hear and cook about 60 minutes.

Take out cabbage and add [C Starch Water] in the soup to thicken
Notes
prepare to enjoy a delicious and nutritious cabbage cake!
Nutritional Information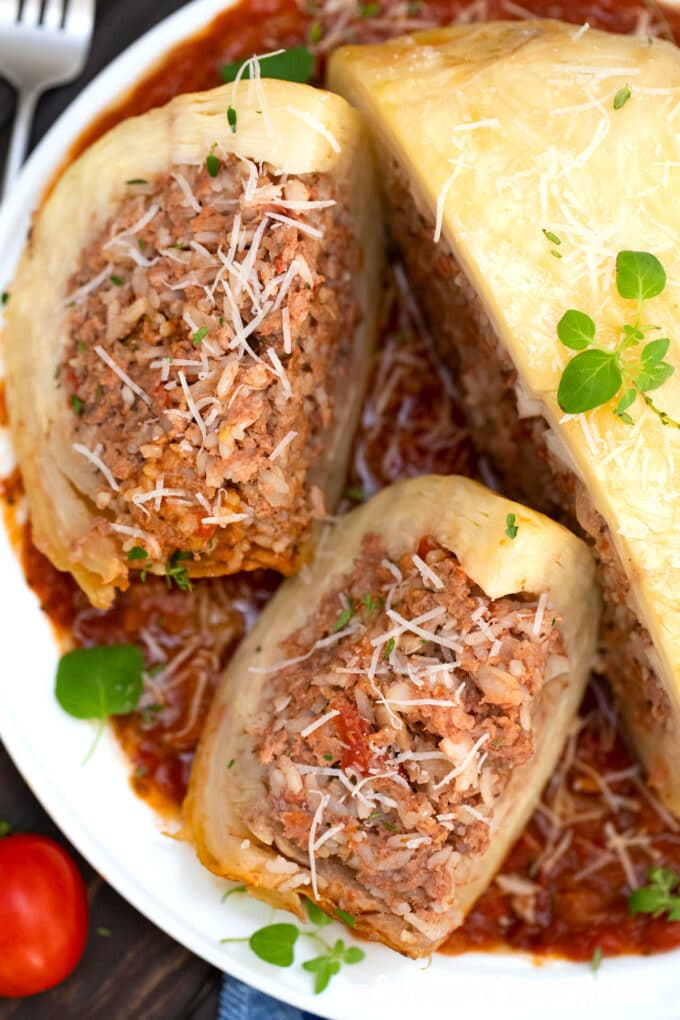 When it comes to cabbage, most people think of it as a vegetable. But in reality, cabbage is a great source of nutrients and vitamins. In this section, we'll take a look at some of the nutritional information for stuffed whole cabbage cake.
First off, this dish contains 190 calories. This is mostly due to the fact that it contains nine grams of fat and three and half grams of saturated fat. These levels are lower than the daily recommended amounts for both fats and saturated fats, but they are still high enough to be harmful if consumed in large quantities over a long period of time.
Secondly, this dish also contains cholesterol levels of 85 mg. This is higher than the daily recommended limit for cholesterol (less than 200 mg), but still within safe limits overall. Cholesterol is important because it helps to make sure that your blood vessels are functioning properly and prevents heart disease.
Finally, this dish also has sodium levels of 140 mg. While this isn't too high compared to other foods on the spectrum, excessive sodium can lead to problems like hypertension or even heart failure over time. It's important to be aware of how much sodium you're consuming each day so that you can make healthy choices when eating out or preparing food at home.
Variations
There's something about a good stuffed cabbage that just makes the heart melt. Whether it's the savory flavor of sausage, the sweetness of apple, or the crispiness of cabbage, this dish is all-around delicious. And thanks to variations like this stuffed cabbage cake, you can enjoy it in many different ways.
To make this recipe, you'll need some basic ingredients: ground beef, onion, applesauce, eggs, bread crumbs, and salt. However, there are countless variations that you can make with these ingredients. For example, you could use vegetarian meat instead of regular meat or switch out the applesauce for mashed potatoes or gravy. You could also add kale or collard greens to make it more nutritious and colorful. In addition to changing up the main ingredients, there are also endless possibilities for sauces and toppings. Try serving it with tomato sauce, yogurt sauce or sour cream for a delicious and unique flavor profile every time.
Leftovers from this stuffed cabbage cake can be stored in an airtight container in the fridge for up to four days or in the freezer for up to two months. When you're ready to eat it again – no matter how late – simply reheat it in a oven at 375 degrees Fahrenheit until heated through. Bon appétit!