My mom used to cook for me this dish when I have undōkai (sports day) or Ensoku (school outings). This is shredded dried squid jerky mixed with gochujang and toasted sesame oil.
This is probably one of the simplest banchans (small dishes of food) to make.
This dish is go well with cold beer, and steamed rice!!. Enjoy!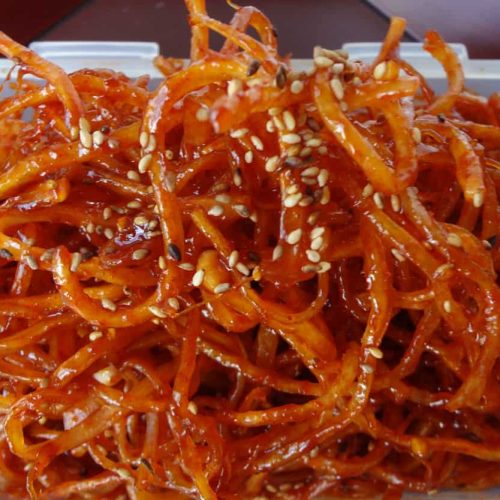 Spicy Shredded Dried squid
Get the perfect appetizer for your next party with this recipe for spicy shredded dried squid.
Ingredients
1

oz

30g bag of dried cuttlefish

1

Tablespoon

gochujang

½

teaspoon

soy sauce

1

Tablespoon

mirin

½

Tablespoon

Brown rice syrup

or honey

1

Tablespoon

Sesame oil
Instructions
Shredded dried squids. It is already shredded but make sure you shred bigger and thicker pieces one more time.

Mix all rest of ingredients and sprinkle some roasted sesame seed for better flovor.
Notes
This hot sauce contains following ingredients: 1 1/2 tbsp red pepper paste, 1 tbsp corn syrup (or sugar), 1/2 tsp finely minced garlic (or grated), and 1 tbsp of sesame oil.
Serve with cold beer in summer time, serve with hot steamed rice in winter season?
The Perfect Dish For A Summer Party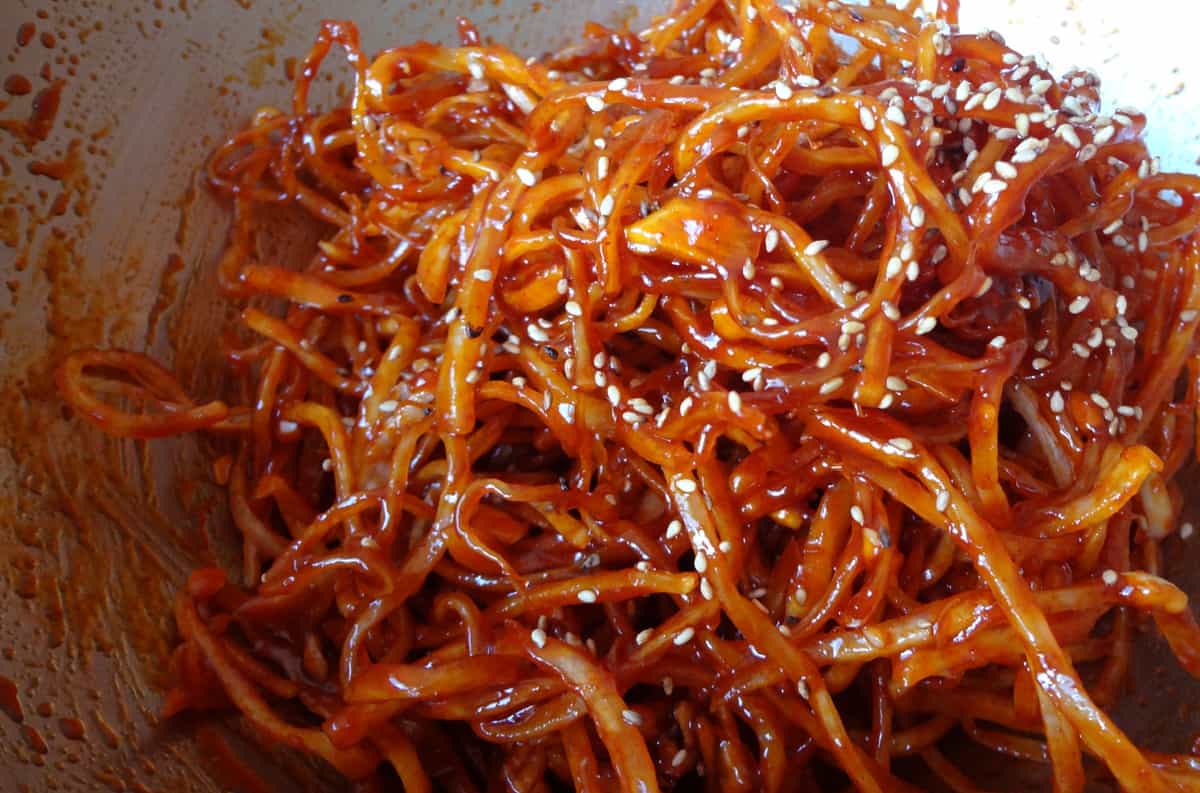 Summertime is the perfect time to enjoy a refreshing dish like Spicy Shredded Dried Squid. Squid is a low-calorie, high-protein seafood that is great for your heart. It's also a good source of omega- 3 fatty acids, which are important for overall health. In addition, dried squid is a traditional Korean dish that can be enjoyed all year round. This dish is perfect for a summer party because it's light and refreshing – perfect for sipping on while you enjoy the sunshine.
To make this dish even more delicious, serve it with a dipping sauce of your choice. Some popular choices include soy sauce or chili sauce. You can also experiment with different flavors to create the perfect dipping experience for your party guests! Squid is versatile enough that it can be used in many different dishes – so there's no reason not to give this delicious seafood dish a try this summer!