Kalbi jim (Galbi jim) is steamed dish made with  kalbi (short rib) and  is one of the most popular Korean dishes. Kalbi jim is often prepared for special occasions and I prepared this dish our Thanksgiving dinner guest since our guest does not like turkey dishes.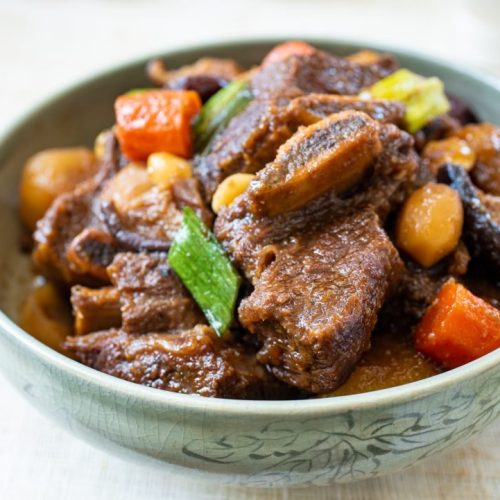 Kalbi jim
Kalbi jim is one of the most popular Korean dishes, and for good reason. It's a delicious and easy to make dish that is perfect for a special occasion or just a regular night out with friends. In this blog post, we're going to teach you how to make a stewed Korean beef short ribs kalbi jim recipe.
Ingredients
2

lbs

beef short ribs cut into 2 inch length

1

kiwi grated

½

daikon radish

1

carrot

5

shiitake mushroom

10

chestnuts peeled

16

ginko nuts

10

dried jujube
[Sauce]
150

ml

soy sauce

5

tablespoon

sugar

5

Tablespoon

scallion

2

Tablespoon

garlic

2

Tablespoon

sesame oil

1

teaspoon

white pepper

½

apple grated

⅓

onion grated
Instructions
rinsed kalbi in cold water about 2 hours and drain

add kiwi and leave about 1 hour. this make meat more tender.

cut all vegetables (daikon, carrot, shiitake) into bite size.

place kalbi in a large pot and add all sauce ingredients [A] and marinade together and leave about 30 minites

add daikon, carrot, shiitake and chestnuts into the pot, cover pot with a tight-fitting lid

When it begins to boil, turn to a low simmer.

cook about 40-45 minutes and add ginko nuts and dried jujube and let them cook down.
Notes
Kalbi jim is a Korean dish that is perfect for any beef lover. The sweet and savory flavors of the marinade make it a perfect choice for any meal. Whether you are looking for an easy weeknight dinner or a festive dish for a special occasion, kalbi jim is sure to please.
Serving Suggestions For Kalbi Jim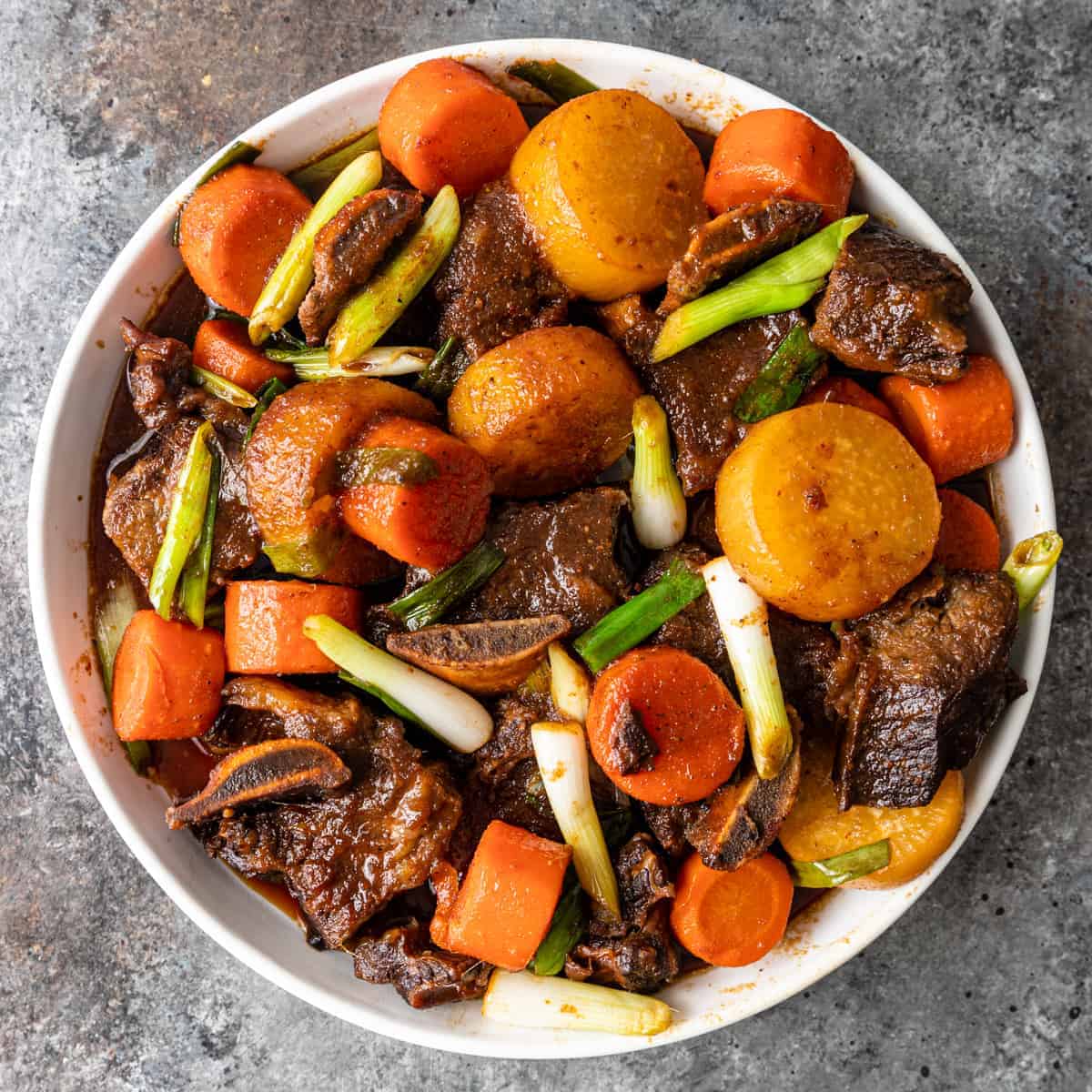 Kalbi Jim is a Korean dish that is typically served with rice, but can also be served as an appetizer. It's a dish that is popular in Korea and has become quite popular in the United States over the past few years. Stewed Korean beef short ribs are tender and savory, and they are cooked in a sweet and savory sauce. The best part? Kalbi Jim can be made in a slow cooker or Instant Pot, so it's perfect for busy families or anyone who wants an easy meal.
To serve Kalbi Jim, you will need kimchi and pickled radishes. Kimchi is a spicy pickled cabbage dish that is typically served with Kalbi Jim. Pickled radishes are another great addition to this meal – they add sourness and crunch to the dish. For complete satisfaction, serve Kalbi Jim with rice on the side for people to enjoy their own customized meal.
Variations Of Kalbi Jim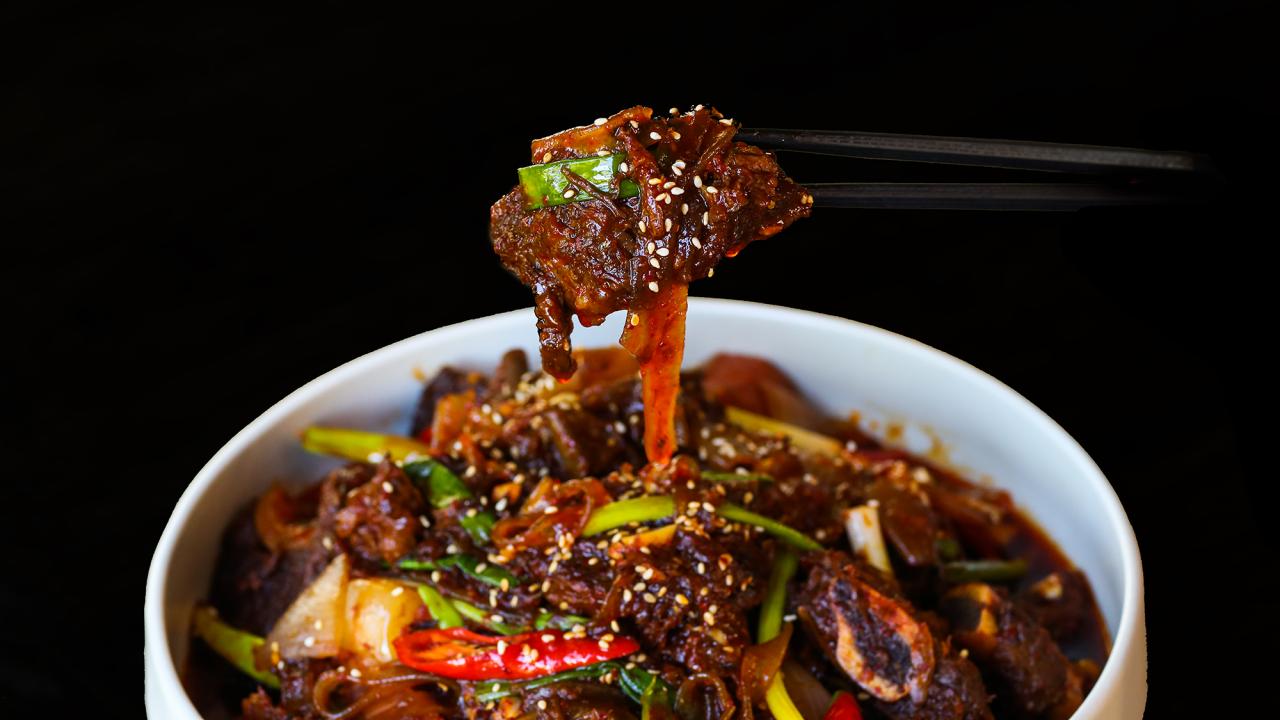 Kalbi Jim is a popular Korean dish that is made with short ribs. However, there are other variations of the dish that exist, including recipes that use chuck or ribeye steak. The key to a good Kalbi Jim is in the marinade, which typically includes soy sauce, brown sugar, rice wine, garlic, and ginger. A typical marinade will also include rice wine or sake as a drink of choice and vegetables such as mushrooms or onions.
Kalbi Jim can be served with rice and vegetables as part of a meal or it can be enjoyed as a party dish – it can be easily made in large batches. It's no wonder Kalbi Jim is such a popular dish – it's delicious and easy to make. So why not give it a try next time you're craving something Korean?