The Daikon is known as Japanese radish or Chinese radish and used in East Asian country often.
We eat grated daikon (daikon oroshi) in tempura dip to help digest oils, or shredded daikon with raw fish to help digest the protein.
I introduced this daikon steak from food 4 thought and this time I added teriyaki sauce and wasabi. Cooking daikon this way, make very sweet and juicy.
You can just put it in pan and wait until daikon is soften.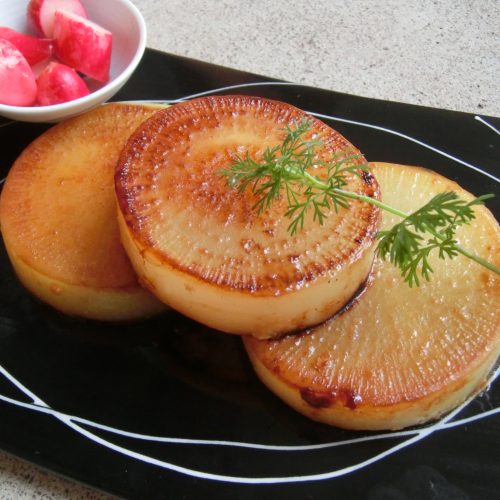 Daikon steak
Get tips on how to cook and eat daikon steak with this informative blog post, complete with a recipe for daikon steak sauce!
Ingredients
1

clove

onion

slice thinly

1

tablespoon

olive oil

8

inches

daikon : slice 1 inches each

salt

pepper(adjust taste)

teriyaki sauce

option for garnish

wasabi

option for garnish
Instructions
cook sliced onions over a low flame in the flying pan (about 5 min) and put aside

Sprinkle salt on sliced daikon and place them into the flying pan. Close the lid on the pan and cook them over gentle (lower) heat (about 50 min: cook each side about 25 min).

If daikon became soft enough, place them into your plate. (Check with tooth pick daikon is soft enough.)

Add Teriyaki sauce and wasabi paste (if you have)
Notes
Daikon radish is a versatile and delicious vegetable that can be used in many different dishes. When cooked properly, it makes a delicious and healthy steak that can be enjoyed by everyone. Be sure to check out our recipes for daikon steak sauce and what to serve with it. And don't forget to store any leftovers in the fridge for later!
What To Serve With Daikon Steak?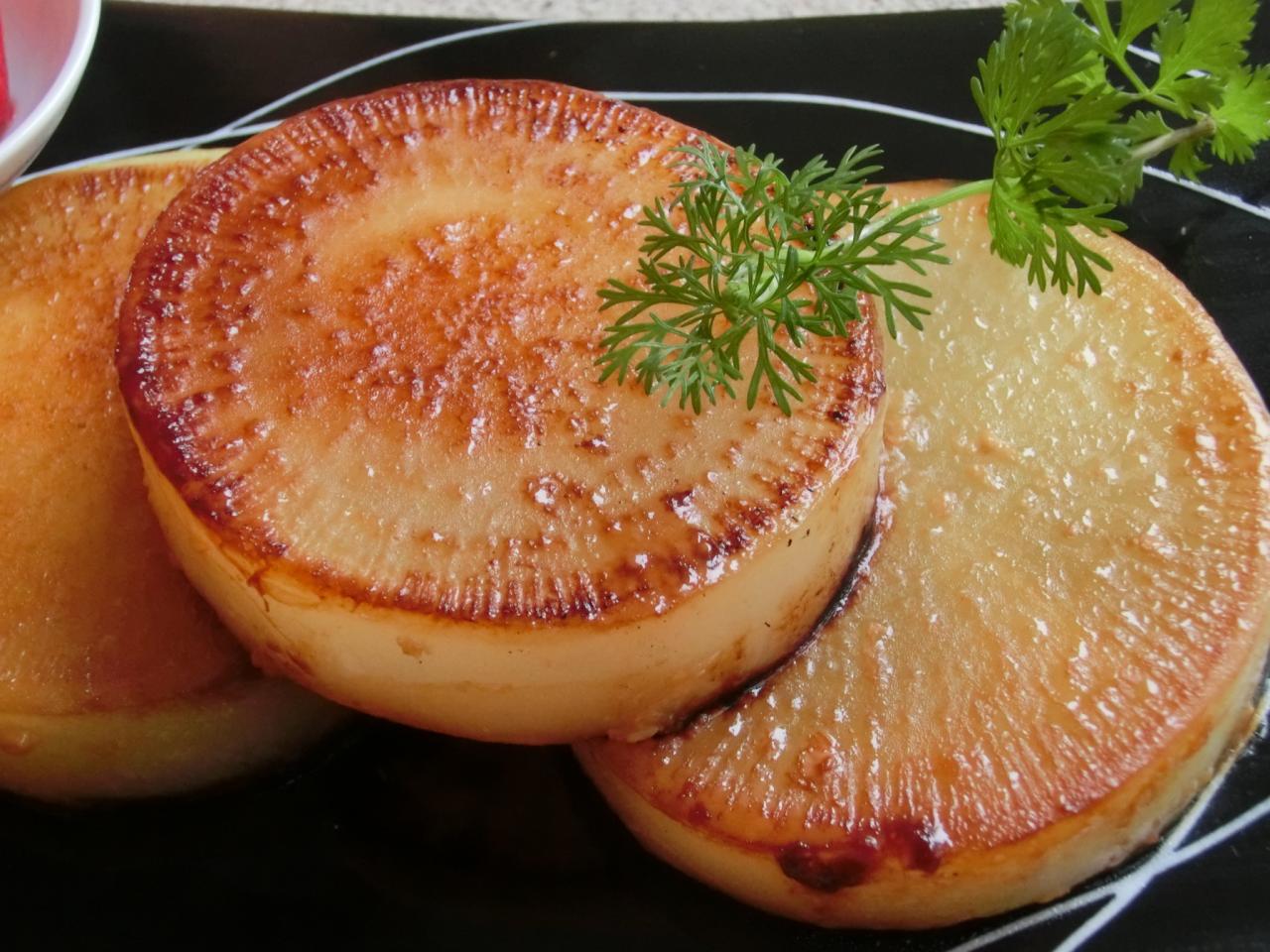 Daikon steak is a delicious and healthy alternative to traditional steak. It's a great source of vitamins and minerals, and it pairs well with a variety of side dishes. If you're looking for a delicious and healthy meal that's also easy to prepare, try serving daikon steak with roasted vegetables, quinoa, or a green salad. If you want to add some extra flavor to your daikon steak, try adding a flavorful sauce or seasoning. You won't regret trying this delicious dish!
How To Store Daikon Steak?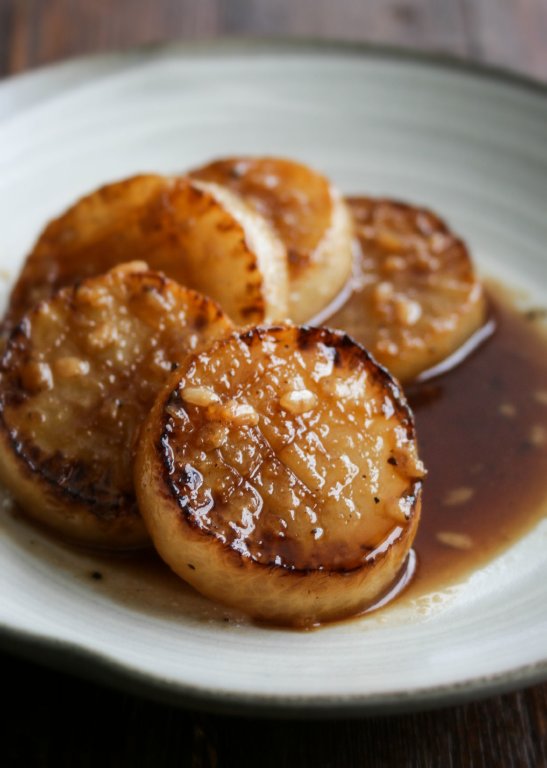 Daikon is a great vegetable to cook with because it has a mild, sweet flavor that pairs well with many different flavors. If you're looking for a delicious and easy steak recipe, try cooking daikon steak! Here are the steps that you need to follow in order to make this dish a success.
First, what is daikon steak? Daikon steak is made from daikon radish and is typically steamed or simmered before being grilled, roasted, or cooked in a pan. It can be stored in the fridge for up to three days and can be cooked in a variety of ways – pan-fried, grilled, or roasted.
Now onto the kitchen essentials: how to store daikon steak? Simply store daikon steaks in the fridge wrapped in foil or plastic wrap. They will stay fresh and ready to cook for up to three days. And if you're feeling adventurous, try cooking them up now!
Once your steaks are cooked, it's time to serve them up! You can serve them as is with some simple sides like potatoes or vegetables, or you could try out one of our delicious daikon steak recipes. Try out our mushroom sauce recipe for an amazing twist on classic steak fare! Or check out our herb butter recipe – perfect for dipping your steaks into! And if you're looking for something a little more decadent (and healthy!), try out our soy-ginger glaze recipe – perfect on top of your grilled daikon steaks. We hope that this guide has helped you cook up some delicious daikon steaks!