We had guest yesterday and I did not have much time to prepare my son's  dinner. This monkey rice ball bento is easy and save my cooking time.
I am sorry I did not have photo of each step, but here is the recipe how to make this rice ball if you like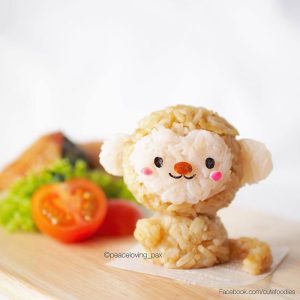 monkey rice ball bento
Get creative with your next bento box and try out this delicious Monkey Rice Ball recipe!
Ingredients
1

bowl azuki ben rice or rice you prepared

Cooked carrot

Slice

cheese

Nori sheet

Nori cutter
Instructions
make 2 rice balls with plastic wrap

cut sliced cheese 1 big oval shape

Cut carrot into 2 small round shapt with straw for nose.

Cut 2 big round shape and cut them half for ears.

Use noripunch for eys and mouth or user scisar.

stick carrot with with spagetti noodle.

place nori sheet for eyes and mouth.
Notes
Making a monkey rice ball bento is a fun and easy way to show your child's friends how much you love them. By following the steps above, you can create a delicious and healthy lunch that will put a smile on any child's face. So what are you waiting for? Get out there and start making some monkey rice balls!
Tips And Tricks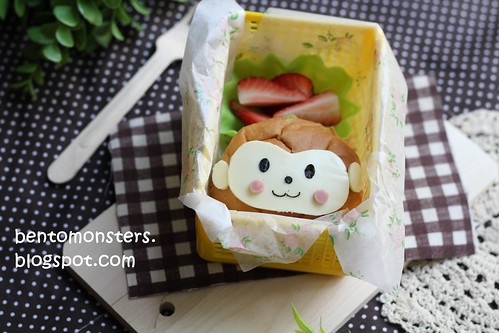 Monkey Rice Balls are a fan favorite at any Japanese restaurant, and for good reason. These little balls of savory goodness are packed full of flavor and are perfect for any meal. In this section, we will outline the steps that you need to take in order to make the best Monkey Rice Balls possible.
First, it is important to marinate the meat before cooking. This will help to add tons of flavor to the Monkey Rice Balls and make them incredibly delicious. The type of meat that you use is up to you, but we recommend using something like chicken or pork. If you're not a fan of strong flavors, then beef or lamb may be a better option.
Next, it is important to choose the right type of rice for your Monkey Rice Ball Bento. We recommend using short-grain rice because it cooks quickly and doesn't become mushy when cooked in a hot liquid like soup or broth. For those who want an extra crispy rice ball, then long-grain rice may be a better option. However, if you don't mind having softer balls then either type of rice will work fine.
The last step in preparing your Monkey Rice Balls is to bake them in an oven until they are crispy and golden brown on the outside. Be sure not to over bake them or they will become dry and rubbery instead of juicy and flavorful! Finally, there are a few tips and tricks that we think will help make your Monkey Rice Balls perfect every time: use fresh ingredients whenever possible, mix up the ingredients every time you make them so that they remain fresh tasting, and don't overfill your balls – simply form them into small rounds instead of large chunks so that they cook evenly throughout. Thanks for reading!
Variations
Monkey rice balls are a popular Japanese dish that is usually made with chicken and rice. However, there are many variations of this dish that include different ingredients and flavors. In this section, we will outline the five best monkey rice ball bento variations that you can try.
The first variation is the Spicy Monkey Rice Ball Bento. This dish includes chicken balls cooked in a spicy sauce, so be sure to add some spice to your meal!
The Teriyaki Chicken Monkey Rice Ball Bento is another great variation of this classic Japanese dish. This version includes chicken balls cooked in a teriyaki sauce, which makes them incredibly delicious and tender.
The Vegetarian Monkey Rice Ball Bento is perfect for those who want to enjoy a tasty monkey rice ball without any meat content. These rice balls are made with vegetable-based filling, so they're both healthy and satisfying.
Finally, the Sushi Monkey Rice Ball Bento is perfect for anyone who loves sushi but wants to enjoy it in a more convenient format than sushi rolls. These rice balls are filled with sushi-like ingredients and are perfect for lunch or dinner any time of day.
And last but not least, the Western-Style Monkey Rice Ball Bento combines elements of both Western and Japanese cuisine into one delicious bite. This bento includes chicken and bacon wrapped inside crispy fried rice balls, making it an ideal meal for those who love both styles of cuisine!
FAQs
Looking for a fun and easy way to cook up some monkey rice balls? Look no further! This blog will outline the steps needed to make these tasty little snacks, as well as provide tips on how to make them even better.
To make monkey rice balls, you'll need: cooked white rice, green peas, carrots, red pepper flakes, salt, and groundnut oil. First, combine all of the ingredients together in a large bowl and mix well. Once everything is combined well, form the mixture into small balls and then place them on a plate.
Now it's time to cook the monkey rice balls! Preheat your oven to 350 degrees Fahrenheit and line a baking sheet with parchment paper. Once the oven is heated up, carefully place the balls on the baking sheet and bake for 20 minutes or until they are golden brown. Be sure to keep an eye on them so that they don't burn – monkey riceballs can be tricky!
Once they're cooked through, let them cool slightly before storing in an airtight container or freezer. Monkey rice balls will last for 3-4 days in an airtight container or 6-8 months in freezer – so there's plenty of room to store plenty of these delicious snacks! Finally, don't forget some tips for making perfect monkey riceballs: mix everything together well before forming into small balls; be sure to bake slowly so that they don't burn; and enjoy while they're still warm!