I love fried chicken and I cooked a a lot when I was in Japan.
However after I moved to New York City, I am afraid to cook because we do not have good kitchen exhaust that I used have.
As working mom, you would like to save time cleaning kitchen after cooking deep flying stuff, and you cannot stay all the time in kitchen especially if you have small kid(s).
So I baked it instead…but it turns out as if I deep flying . It is not only easy but also save the calorie.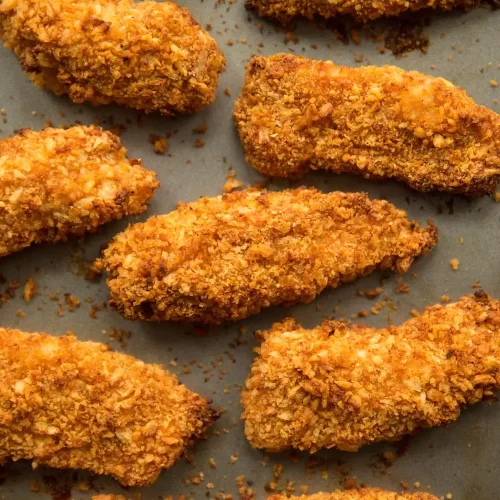 Non-fried crispy chicken
Fried chicken is one of America's favorite foods, and for good reason. It's salty, greasy, and absolutely delicious. However, there are a lot of unhealthy things that go into making fried chicken. In this blog post, we're going to teach you how to make non-fried crispy chicken without any of the unhealthy fats and chemicals. By following our step-by-step guide, you'll be able to make crispy chicken without any of the harmful effects. So, whether you're looking to reduce your saturated fat intake or just want some delicious chicken without all the fuss, our guide to non-fried crispy chicken is the perfect solution for you.
Ingredients
[A]
10

oz

1/2 lb Chicken thigh or chicken leg (200-300g)

1

Tablespoon

ginger grated

1

clove

garlic grated

3

Tablespoon

soy sauce

3

Tablespoon

sake

You can use white wine

1-2

Tablespoon

gochujang

option
[Other]
corn starch

toasted sesame oil / Corn oil

salt / pepper
Instructions
Cut chicken into bite-size and sprinkle salt and pepper.

Mix all Ingredients [A]

Add chicken and Ingredients [A] in to zipper bag. ay the flank steak in the bag with the marinade and zip the bag closed. Leave in fridge over night

Preheat oven to 420 degrees F (210-220 degree C).

Coat each chickens with corn starch .

Place a baking sheet on a baking pan, place them.

Brush the top slice of chicken of the oil. I used 1 T toasted sesame oil and 2 T canola oil.

bake them about 15-20 minutes until the meat is cooked through.
Notes
Here are some of the best chicken recipes that will help you make crispy chicken without frying it. Follow the instructions carefully and you'll be able to make delicious, crispy chicken in no time. So what are you waiting for? Get cooking!
The Secret To Crispy Chicken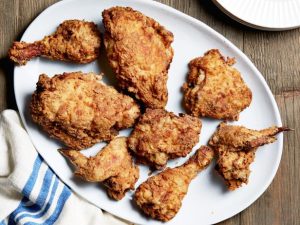 Nobody likes a dry and overcooked chicken breast, that's why it's important to follow these simple steps if you want your chicken to be crispy and delicious. Not only will you get a delicious and crispy meal, but you'll also create a Gunpowder coating that will help to lock in the juices and make your chicken extra juicy.
To create a Gunpowder coating, first mix together one cup of cornstarch with two tablespoons of water. Then, coat the chicken in the mixture using your hands or a pastry brush. Make sure to coat each piece of chicken thoroughly.
Once the chicken is coated, it's time to sear it in a hot pan. You want to cook the chicken over high heat for about two minutes per side until it is golden brown and cooked through. Be sure not to overcook the chicken or it will become dry and tough.
Next, bake the chickens in a preheated oven for about 25 minutes until they are crispy and cooked through. Don't forget to remove them from the oven before they become too heavy or dense – they should be served hot when done!